Nordic Swan Ecolabelled buildings has doubled in the Nordic countries
New statistics show that interest in sustainable construction with the Nordic Swan Ecolabel continues to increase. In two years, the number of housing units, i.e. apartments, townhouses, villas, preschools and schools that meet the Nordic Ecolabelling requirements has almost doubled in the Nordic region.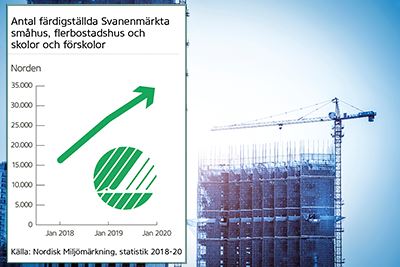 Today, there are 34,700 housing units, completed and under construction, in the Nordic countries. The corresponding figures for Sweden are 28,000 housing units (January 2020).
-It is very gratifying that both clients and residents value an independent ecolabelling. The Nordic Swan Ecolabel provides proof that the building meets tough environmental and health requirements, which have been checked on site, says Stefan Björling, Business Area Manager of House and Renovation at Ecolabelling Sweden.
In Sweden, 2019 has meant an increased interest in building schools and preschools:
Nordic Ecolabelling requirements contribute to a more sustainable work environment for our children since they are developed from a holistic perspective regarding the building's energy efficiency and the fact that the building products have been examined from a health and environmental perspective, says Stefan Björling.
In fact, in 2019 the first scientifically established study on indoor environment in preschools showed that those that are Nordic Swan Ecolabelled do really offer a healthier indoor climate to the children and personnel working.
- So far, the corona pandemic has not affected the construction projects in progress. And we hope that the incentives planned will result in more sustainable construction. It's imperative if the construction sector shall contribute to achieving the global and national sustainability goals, says Stefan Björling.
For more information please contact: Stefan Björling, Business Area Manager for House & Renovation to e-mail: stefan.bjorling@svanen.se or telephone: +46 (0) 8-55 55 24 23.