Consultation concerning revised criteria for
Hotels, restaurants and conference facilities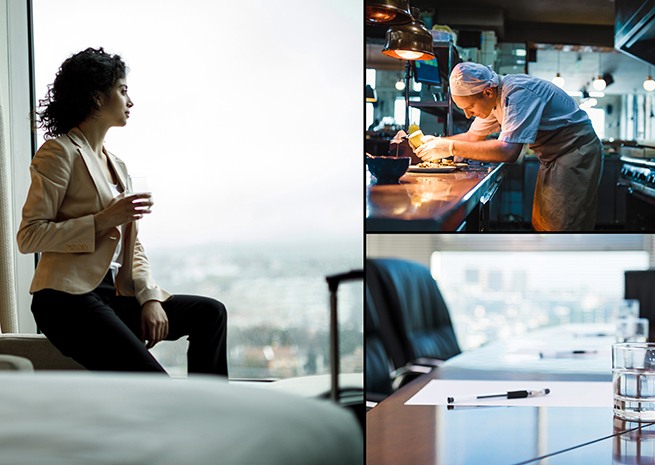 Nordic Ecolabelling gives you the opportunity to comment on the proposal for criteria for Nordic Swan Ecolabelling for Hotels, restaurants and conference facilities. The proposed criteria have been jointly prepared by representatives from the Nordic Ecolabelling offices. The ecolabelling is assessed based on a life cycle perspective and fulfil high environmental and health requirements. Your comments are important and will be considered by the national Ecolabelling boards and the Nordic Ecolabelling Board.
We are looking forward to your comments, which should be sent to Ecolabelling Sweden no later than November 8, 2020 for us to be able to take them into consideration.
Please find the proposed criteria for download further down on this page.
What has been changed?
Structural changes
The structure has been changed to make the criteria more intuitive. The product group definition includes different combinations of businesses. It should be clear which requirements apply to whom. The number of requirements has been reduced considerably.
Environmental Management
Requirements for «Continuous improvement» are added as obligatory as well as optional (point) requirements for "Resource saving measures". Annual follow-up has been adjusted, and we have a greater focus on annual follow-up of the requirements and dialogue with the licensee.
Energy
The energy requirements have been changed and made stricter. An upper limit value for the use of energy is proposed. Fossil oil is not allowed for heating. Businesses that are energy efficient and have a low energy consumption pass all energy requirements and do not need to document their energy efficiency further. Businesses with medium-high energy consumption must carry out energy-reducing measures.
New and separate energy requirements have been developed for restaurants with or without conferences.
Water
The requirements for water consumption have been changed and made stricter. The limit value for water is proposed obligatory for everyone, in contrast to before, when it was optional whether the company had to meet the limit value for either water or waste.
New and separate requirements for water consumption have been developed for restaurants with or without conferences.
Waste
The requirements for waste have been changed and tightened. The limit value for residual waste is proposed obligatory, in contrast to before, when it was optional to choose between meeting the limit value for either water or waste.
The proposal contains a new and comprehensive requirement for food waste, which involves measurement, analysis, information to guests, training of employees and annual follow-up.
The requirements for disposable items have been tightened.
Sustainable food and drink
New requirements have been introduced for palm oil and Genetically Modified Organisms (GMO). At the same time the requirements for organic food and drinks, and vegetarian food have been changed and tightened. Locally produced food is rewarded to a greater extent than before. The serving of still, bottled water is proposed prohibited, this was previously a point requirement. The requirements for food and drinks include point requirements to motivate improvements.
Chemicals
The requirements have been changed and tightened. 100% of the products for general cleaning, dishwashing and laundry must be ecolabelled. This means that the documentation burden for the applicant is considerably eased by setting requirements for the products only, and not the volume of used products. There are obligatory requirements for the classification and ingredients for other chemicals that are used in larger quantities.
Purchasing
Requirements for the purchase of ecolabelled products and services have been changed, tightened, and simplified. A 100% of the tissue paper and the copy paper must be ecolabelled. A 100% of all printed matter must come from an ecolabelled printing company. The change in the requirement leads to a simplification in the documentation burden for the applicant, as you do not need to calculate purchased quantities, but only document that you use Ecolabelled products. The business is rewarded with points for purchasing other Ecolabelled products and services.
We are particularly interested in getting comments on the following
Nordic Ecolabelling appreciates views on all the requirements, but especially on the requirements for the limit values for energy, water, residual waste and organic purchases.
If your business can test and provide feedback on these limit values, it is very helpful to ensure the right level of them. The limit values for water and energy can be challenging for businesses that include large spas, and Nordic Ecolabelling wants information on whether it is possible to deduct energy and water consumption linked to spa activities.
Documents for download
Who can provide input?
All people, companies and institutions who are interested in taking part in the development work of Nordic Ecolabelling criteria for Hotels, restaurants and conference facilities can provide us with their opinions and comments. We would appreciate if you kindly distribute information about this review to whom it may concern.
How can comments be sent in?
Your input is most valuable to our criteria development. We prefer to receive your answers marked with "Ref. 055" via the form below or by e-mail to remiss@svanen.se.
For further questions, please contact our Product Specialist
Susanne Hellman
e-mail: susanne.hellman@svanen.se or
telephone +46(0) 8-55 55 24 42
What happens next?
When the consultation period is complete, the answers will be compiled and evaluated. For this reason, a new revised proposal for criteria will be submitted to the Swedish Ecolabelling Board and the other national committees. On this basis, the Nordic Ecolabelling Board will then decide on new criteria.
Part of the decision document is the summary of all consultation responses together with answers from Nordic Ecolabelling. The summary will be public and available on the Ecolabelling Sweden's web page in connection with the publication of the new criteria.
We look forward to receiving your comments no later than November 8, 2020.