Wash installations for vehicles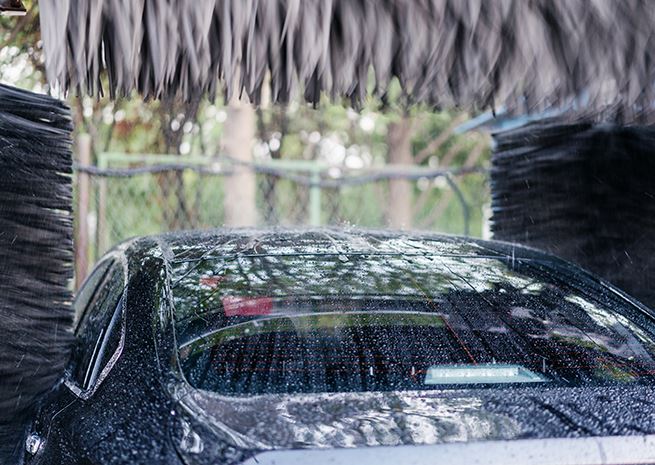 Consultation on proposal for new criteria for Nordic Ecolabelling Wash installations for vehicles
Nordic Ecolabelling gives you the opportunity to submit your views on the proposal for criteria for Nordic Ecolabelling for Wash installations for vehicles. Your views are important and will be processed by the national ecolabelling boards and the Nordic Ecolabelling Board.
We look forward to your views, which must be sent to Ecolabelling Sweden no later than 15 November 2023 for consideration.
Please find the proposed criteria for download further down on this page.
What has been changed?
Wash installations for airplanes have been included in the criteria.
Requirement (O6) for maximum effluents of cadmium, zinc, copper, ∑lead + nickel + chromium and oil have been tightened. In addition, requirements have been introduced for the discharge of antimony and the phthalate DEHP. Now the same requirement levels for Denmark and the other countries.
Requirements for water consumption have been tightened (O7).
The requirement levels are now split for buses and trucks. The requirement levels are now no longer divided for Denmark and the other countries, but in two geographical zones (zone 1: Denmark and southern Sweden, zone 2: Other) due to climate conditions, which affect the dirtiness of the vehicles and thus water consumption.
Requirements for the proportion of Nordic Swan Ecolabelled chemicals have been tightened (O8) from min. 30% to 100% Nordic Swan Ecolabelled care a products and cleaning product for cleaning the hall.
New requirement for energy consumption in the wash installation (O14).
New point requirements where points are given for lower water consumption than mandatory requirements (P2), advanced technology to analyse and dose care products as needed in relation to dirtiness (P3), reuse of chemical packaging or direct filling of chemical products (P4) , lower energy consumption than mandatory requirements (P5) and solar cells (P6).
Most important issues
Nordic Ecolabelling would like to have comments on the complete criteria set, but would like to highlight the following points:
O6 Effluents from the wash installation.
O7 Water consumption.
O14 Energy consumption.
Section 1.8 Steam wash.
Wash installations for steam washing are considered to be included in the criteria. See section 1.8 in the criteria for requirements that are intended if the criteria are to include steam washing.
O18 Summary of points.
O26 Annual follow-up.
Documents for download
Who can provide input?
All persons, companies and institutions who are interested in taking part in the work on the development of criteria for Nordic Ecolabelling for Floor coverings and flooring underlays can assist us with opinions and comments. We would be grateful if you would send further information about this consultation to additional people/organizations that may be interested in the proposal.
How to submit responses and comments?
We prefer to receive your input via the form below. But you can also send them to remiss@svanen.se.
If you have any questions, please contact our Product Specialist Sofia Lindqvist.
E-mail: sofia.lindqvist@svanen.se
Telephone: +46 (0)8 55 55 24 69
What happens next?
After the completion of the consulation period, the responses will be compiled and evaluated. After that, a new revised proposal for criteria will be submitted to national boards before a final decision is taken in the Nordic Ecolabelling Board.
Part of the basis for the decision is the consultation compilation with all responses together with views from Nordic Ecolabelling. The compilation will be public and available on Ecolabelling Sweden's website in connection with the publication of the new criteria.
We look forward to receiving your comments no later than 15 November 2023.